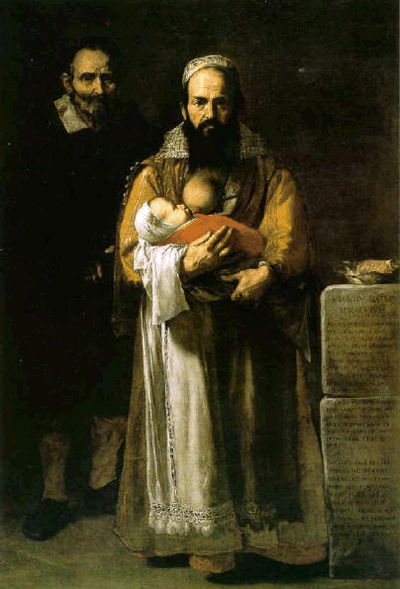 So I recently happened to be in Madrid for a few days and took advantage of that fact to stroll once again through what is arguably the world's greatest collection of old masters paintings, that of the Prado, which is where I came upon the astonishing triple-portrait above, dated 1631, by the then-Naples-based Spanish tenebrist master Jusepe de Ribera (apparently on loan from a museum in nearby Toledo).
As you'll doubtless agree, it's a hard image to shake, and back at the hotel I took to trawling the internet for background information, which is how I came upon the following entry from University of Maryland professor Jeff Matthews on his "Around Naples Encyclopedia" blog:
The title of this painting is simply Bearded Woman and it is from the year 1631. The painting is now in the permanent collection of the Museo de Tavera in Toledo. The subjects were husband and wife, Felix and Magdalena Ventura. Even before the painting, Magdalena Ventura was famous. She was not really from Naples, but rather from somewhere in the nearby Abruzzi. She was already a grown woman with several children before her beard started to grow in thick and full like a man's beard. When the Duke of Alcala, the Spanish viceroy of Naples at the time, heard about her, he invited her to come into the big city and sit for a painting by de Ribera, the Duke's own court artist and one of the leading painters of the time. Magdalena's fame spread such that she was mentioned in court correspondence throughout Italy, reflecting perhaps all of our lasting fascination with weirdness. The Duke and his quack medicos certainly weren't up on such things as androgen excess or perhaps the rare genetic disorder known as hypertrichosis; they just thought, Holy Cow, a bearded lady. (I think the expression "Holy Cow" comes into English from India; it doesn't exist in Italian or Spanish, so the Duke probably said something else.) But enlightened minds such as yours and mine are, indeed, up on such things as androgen excess and hypertrichosis, and we still think, Holy Cow, a bearded lady.
Holy Cow, indeed. And yet it seemed to me somehow that there was more to the uncanny power of this image than merely bovine hirsute mama associations.
And then I recalled a parallel set of unsettling visual provocations from back in my own days reporting Poland's transition from out of Communism for the New Yorker, in this instance from the magazine's issue of December 11, 1995, where I profiled Jerzy Urban, the roundly despised and just as roundly despising Jewish government press spokesman of Warsaw's prior martial law regime. Mr. Urban had gone on to become one of the country's richest men, following the transition, by founding the deliriously scandalous gutter rag, Nie (which is to say, "No!"), part Screw magazine and part Canard Enchaine, the venue for a whole slew of outrageous stunts. As I reported at the time (the piece is also included in my collection, Vermeer in Bosnia, though unlike there, in what follows I intersperse the relevant imagery):
Perhaps Urban's favorite "happening," though, was the time he conned the newly reopened Warsaw luxury Hotel Bristol into getting itself certified kosher [the better to cater to the exponentially expanding holocaust tourism trade]. He pulled out an issue of Nie and, turning to a photo spread, showed me how an actor—or, rather, a young actress—had been disguised as a hunched, bearded, and bedraggled old rabbi and had been driven to the hotel in Urban's Jaguar; and how the "rabbi" had thereupon dragged the hotels' prim-and-proper female business manager all around the establishment, peppering her with arch questions.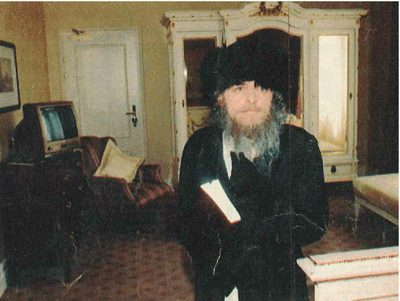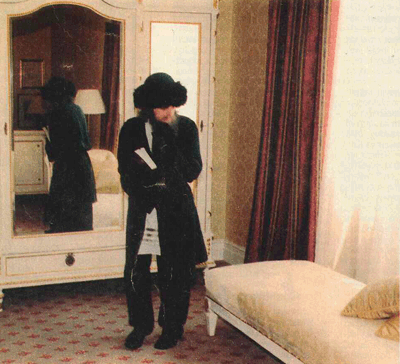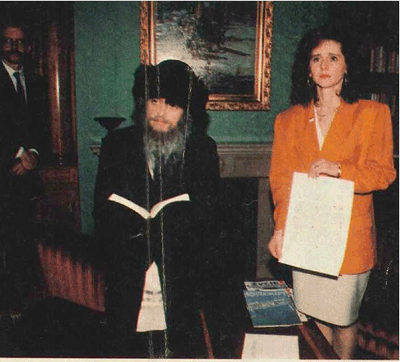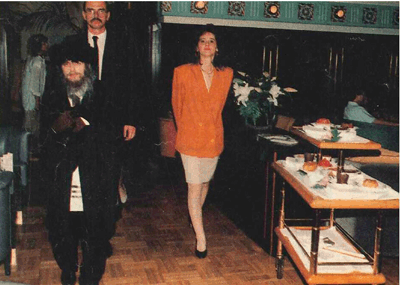 "It was great," Urban declared. "We made a complete fool of this business-manager lady." ("Yeah, she's probably committed suicide by now," one of my friends subsequently commented. I asked what she had done to deserve such treatment. "Oh, her just being a woman is generally provocation enough for Urban," my friend replied.) Urban continued, "And here the rabbi is signing the certificate—look at the manager, look at how tense she is.
It's hilarious. And then here we have the rabbi being escorted back to my Jaguar, and then here…" Urban was speechless with satisfaction: the last picture showed the "rabbi" back in the Jaguar, a few blocks away, her black coat removed, her white shirt opened, her beard gingerly pulled aside as she breast-feeds her child. The photograph was captioned "Rabin z dzieciatkiem," the latter being a word for child used almost exclusively in the expression "Madonna and Child." It was a combination of image and caption almost precision engineered to fry every nationalist circuit in the Polish imagination. Urban smiled broadly and declared his labors good.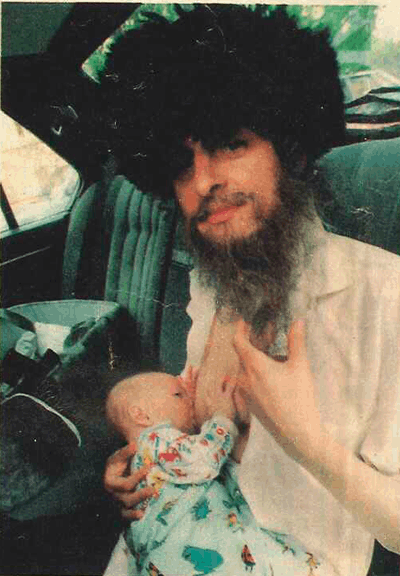 Which in turn has gotten me to thinking about that Ribera image again.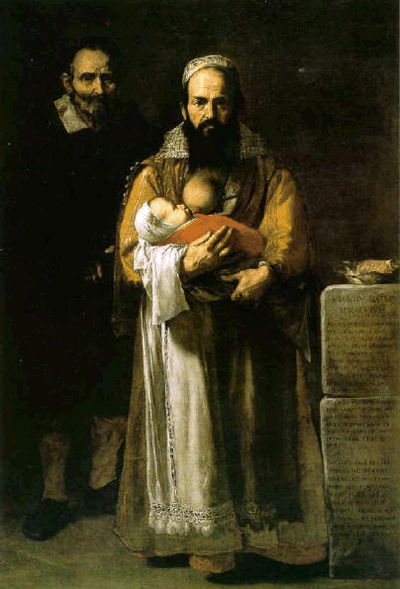 Because that isn't just some bearded lady breastfeeding her baby. That's a bearded lady who looks very much like a rabbi—of the sort Rembrandt was painting during the same period, as in this instance, now at the Hermitage in St Petersburg, from a few decades later (1654, note the cap):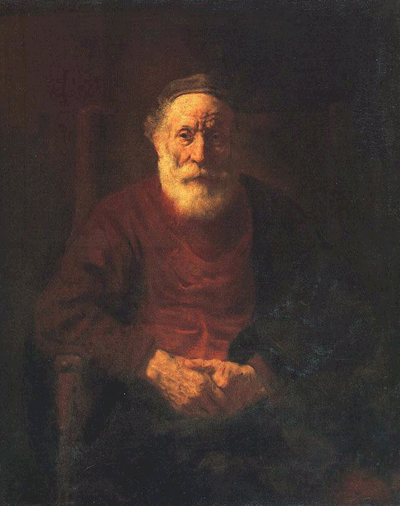 My good friend, the poet Stanley Moss, himself a longtime distinguished dealer in Old Master paintings, tells me I'm crazy to be advancing this hypothesis—that is, that there is something oddly Jewish about the way de Ribera has chosen to portray his breastfeeding bearded lady. But I don't know. And it's not as if it wouldn't have been as loaded a depiction in its time (1631) as Urban's was in his place: a Spanish painter, after all, in the wake of the expulsion of the Jews from Spain in 1492, and the centuries thereafter of Inquisitional anxiety about the persistence of secret conversos in the country's midst (with all of Europe, for that matter, still wrestling with its Jewish problem: The Merchant of Venice, 1598; Don Quixote, 1605 and 1615; Spinoza born the very next year, 1632)—portraying a bearded rabbina, that is, Madonna-like, breastfeeding her infant, with her haggard husband gazing on, Joseph-like, from the shadows.
It's just a really odd painting, is all I'm saying.