Beginning in the November 2013 issue of The Believer, Weschler launched a new series, "Pillows of Air," which we will be posting here after each issue leaves the newsstand.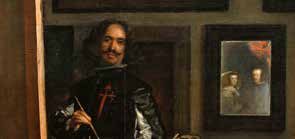 From The Believer, July 2014
Take a look at this entirely captivating department store ad, ubiquitous a few seasons back on the streets of Madrid, a sly pastiche riff on one of the city's other premier attractions, arguably the greatest masterpiece in Madrid's greatest museum, the Prado—Velázquez's career-defining masterpiece of 1656, Las Meninas. It's an interesting thing about pastiches, because, as often happens with the genre, the copy helps reveal some of the deeper splendors couched in the original. Note how, in the ad, a photographer- dandy stands in at the same spot occupied by the painter in the painting, gazing intently, along with the rest of his crew of costumed models, into his own reflection in a wide facing mirror, it would seem, camera at his waist, getting set to snap the very image we now see before us—maybe even doing so at this very instant, with the image in the ad being the result.