On the film 52 Tuesdays
The Monthly | Thursday, May 01, 2014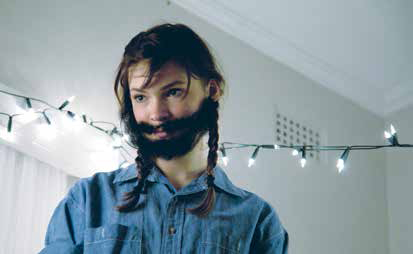 ---
Adelaide was one of the main staging areas for the great Australian cinematic renaissance of the 1970s and early '80s, the place where Picnic at Hanging Rock, Breaker Morant, Gallipoli and countless other films were fashioned, but film production moved on as major studios opened in east coast cities in the '90s. Left behind were an exceptionally talented but underemployed group of filmmakers, cinematographers, gaffers, technicians and the like, and in 2009 the South Australian Film Corporation launched a fund for innovative low-budget projects with the aim of revving up the local industry once again.
The most intriguing proposal the fund received came from an exceptionally talented young cooperative from Closer Productions, including first-time feature director Sophie Hyde, screenwriter Matthew Cormack, and producers Rebecca Summerton and Bryan Mason. The idea was summed up in the film's title – a title that first came into the world without any content attached, as a formal challenge, a promise, a hope, a kind of cockeyed wager: 52 Tuesdays (in limited release).
What, the Closer team wondered, would it be like if they constrained themselves to shoot only on every Tuesday for a given year; and consecutively, such that whatever was filmed that day would have to happen, in story terms, on that day; and such that in the final film, footage from each Tuesday would have to be included. The film could start out with a basic thematic or plot conception, but would take its substantive shape in real time across the year of its creation. The scripts would be written as they went along; the cast would only get their scripts a day or two before each fresh Tuesday, and only see the parts that pertained to their own characters. What sort of intimacy, what sort of seat-of-the- pants authenticity and intensity might be achieved?
Somehow the Closer team convinced the SAFC to go along with the whole mad scheme, to the tune of $350,000 dollars of seed funding. (The budget would swell to approximately twice that by the time they were done: still an incredibly modest sum by industry standards.) Across a series of workshops and long, noodling conversations, Hyde and Cormack in particular began to zero in on a story idea. It took a while. They successively entertained and dispatched such notions as the chronicle of a doomed romantic affair ('Last Tango in 52 Tuesdays') or a police procedural ('CSI: 52 Tuesdays') or a courtroom stem-winder ('52 Gavels'). Instead they hit on something altogether more absorbing and consuming: the story of a family.
The leads and most of the rest of the cast were non-professionals (though hardly just ordinary people) and the first day of shooting on 23 August 2011 must have been quite a doozy, for it required all the principals to work at peak form from the outset. We begin with a tomboyish teenage girl spying after school, breath bated, upon two of her slightly older classmates, a boy and a girl, actors in the school play, back- stage in the dark, intently spooning. Presently, the girl of the couple looks up and gazes fixedly upon the young voyeur. A few moments later, the gamin tomboy is all fetching and care-free, giggling atop the back of her divorced father's motorcycle as he rides her home to her mother. Once inside, the girl – her name is Billie, and the camera can't take its eyes off her – rushes to the bathroom door to call out to her mother inside. (It's clearly that kind of mother–daughter relationship: Billie loves confiding in her mum, immediately wanting to share all the latest gossip and discoveries.) Her mother tells her to wait a moment, and inside the bathroom we see the mother, Jane, her ample chest wrapped tight in bandages, her head half shaved.
And so things begin – Jane, after years of tormented stasis, has finally set out on a process she had secretly, achingly desired. Coming out of the bathroom, she explains how over the next year she will be undergoing gender reassignment treatment (hormone therapy and eventual surgery) in order to birth herself anew as the James she has all along felt her- self to be. And she wants Billie to go and live with her father for that year. Billie can hardly take it all in, though she keeps a superficial cool, busying herself looking for a missing red jumper that turns out to be on the back of her slacker musician uncle ( Jane's gay brother, Harry). Harry knew Jane's story all along – everyone knew it all along, everyone except Billie. Angry, confused, proud, determined not to let on how confused she is, Billie nonchalantly agrees: Fine, she'll move out, but not before extracting a solemn pledge that she and her mother will continue to spend every Tuesday evening together, from after school till 10 pm. "Promise?" she demands – and Tilda Cobham-Hervey, the newcomer playing the 15-year-old Billie, perfectly nails the line, tapping an earnest seriousness almost as uncanny as her pixie self-assurance.
The year begins to unfurl, each new week marked by a tick-tock-tick-tock and a split second or two of television news footage from that very day: Julian Assange pushing through a spatter of camera flashes, the capsized Costa Concordia, war footage from Libya or Syria, surveillance footage of a woman in the distance walking peaceably along until suddenly she disappears, having been swallowed up by an open manhole (Did that just happen? we find ourselves wondering, as the subliminal pun washes over us). The performer playing Jane and James, Del Herbert-Jane, originally a gender- nonconforming adviser to the project whom Hyde and her team eventually convinced to play this transgendering figure, is powerfully convincing as an individual transitioning to a man (whatever that might mean) who, no matter how roiling his inner struggles, never stops being a mother as well. And the rest of the cast, Beau Travis Williams as Billie's easygoing if sorely tried father, Mario Späte as the immature Harry, and Imogen Archer and Sam Althuizen as Jasmin and Josh, the slightly older students – newcomers all – acquit themselves with entirely credible verve and panache. (No wonder that Sophie Hyde nabbed the directing award for world cinema at Sundance and the film itself went on to win both a Crystal Bear and the Siegessäule Readers' Jury Award a few weeks later at the Berlinale.)
As it happens, the sly Harry contrives to give Billie the key to an abandoned warehouse space, and instead of going home to her father's each Tuesday night, she meets Jasmin and Josh there after and they videotape themselves in initially tentative but ever more adventurous and explicit sexual explorations. As charged and dramatic as James's transition is from week to week, somehow Billie's is no less so: or rather their braided stories – both are going through a kind of adolescence, both negotiating the rapids of gender identity, both engaged in the sometimes harrowing work of self-invention and reinvention– become metaphors of each other. (If anything, improbably, it's Billie's story that becomes the more compelling: how do any of us ever get through adolescence?)
During the last third of the film, complications set in with regard to James's treatments, Tom comes crashing off his motorcycle – in short, life keeps happening – as the film hurtles toward a deeply satisfying conclusion. When Billie, on her mother's porch at midnight, rings the doorbell and stands there (after James opens the door), peering at her watch, counting out the seconds before pronouncing, ever so precisely, "It's time" – it is, it is time, the line has been earnt, the wager won.
For starters, the line announces the launch of what may well come to be an altogether soaring career: that of Cobham-Hervey, Adelaide local, the daughter of a dancer and a lighting designer, before this role something of a circus performer (where she specialised in a hula hoop act), ringer for a young Audrey Hepburn. The last time I remember witnessing as powerfully charismatic and auspicious a launch was Mia Wasikowska's likewise out-of-nowhere star turn on In Treatment, and look where she's gone.
But also, and perhaps more importantly, it's time with regard to the gender transitional issues at the heart of this film's story. Much as huge progress seems to have been made over the past few decades in the acceptance and acknowl- edgement of gay relations (with a few admittedly dismaying exceptions, your Uganda here, your Canberra there – may they all be shortlived), so the last few months (it even feels like since the premiere of 52 Tuesdays at the Adelaide Festival this past October) have seen unbelievable strides in the recognition and appreciation of all sorts of gender diversity.
Suddenly gender fluidity seems to be cropping up all over the place – in the news, on fashion runways, in novels, in documentaries (two other recent instances to look out for: another Australian effort, Phoebe Hart's autobiographical chronicle Orchids: My Intersex Adventure; and I Am a Girl!, a captivating short Dutch offering from director Susan Koenen about Joppe, a delightfully self-possessed, self-questioning 13-year-old girl-born-a-boy, which you can track down on YouTube). Indeed, things are changing so fast that one feels hard-pressed to keep up. (The same goes for the technological sphere: a key plot development in 52 Tuesdays turns on the fate of a video cassette of the sort that no digitally savvy teenagers would have used in 2012, though they might well have in 2010 when the story was first being dreamt up.)
At any rate, the language is having a hard time keeping up: the press packet for 52 Tuesdays includes a six-page memo on proper deployment of words, particularly pronouns. As last month's High Court decision recognising people of non-specific gender shows, there is no question that the simple binaries of he and she will no longer do, but the recommended alternatives of they and their are hardly satisfactory. In this regard, we as a culture are at something like the Ms moment in the early '70s, and the language is going to have to be made to grow, as will we all. But that's fine. It's time.
---
---