Theo Jansen's Lumbering Life-Forms Arrive in America
The New York Times, Nov. 26, 2014 | Saturday, Dec 06, 2014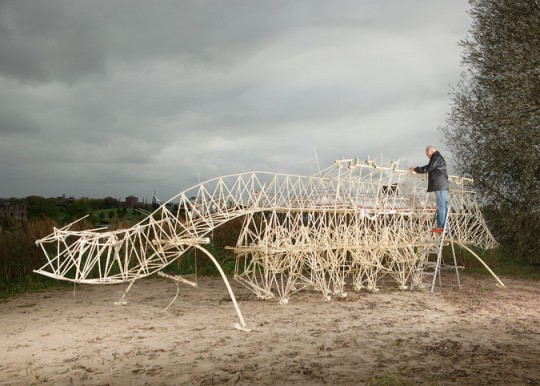 ---
Photo by Jaap Scheeren for The New York Times
On a blustery October afternoon, on a gently raised hill above Ypenburg, the Netherlands, roughly halfway between The Hague and Delft, the 66-year-old once aspiring physicist Theo Jansen and several assistants busily prepared to launch an odd sort of species invasion. In a few weeks, Jansen's strandbeests — the huge selfpropelled beach-striding contraptions that Jansen has spent the better part of the past quarter-century conceiving, evolving and constructing from out of ever more ambitious concatenations of lightweight yellow PVC tubing and spiny white sails — would be strutting their improbably lifelike stuff up and down Miami Beach at Art Basel, to the drop-jawed amazement of all. But for the moment, Jansen had to carefully, with near-veterinary skill, slice and fold six of the wide-slung beests into two 40-foot-long shipping containers, so that they would survive the rigors of their Atlantic passage.
It was along this ridge, raised many years ago to shield the residents of the housing development down on one side from the noise of the highway on the other, that Jansen first established his winter studio compound (itself made up of several repurposed shipping containers) as a place where he could labor during the many months each year that he wasn't able to actually parade his strange creations along Theo the North Sea beach where they truly belonged (and where he kept a similar summer compound). Parts of superseded strandbeests lay strewn about the grounds, their yellow shafts blanched bone white, and a shed off to the side contained miles more straight, still-yellow PVC tubes, stacked in neat rows, waiting to be transmuted into future generations. (''Life, from its most primitive to its most advanced manifestations, consists largely of protein,'' Jansen once told me. ''PVC is my protein.'')
Click here for the full article or for a Bill Morrison video of the strandbeests at Miami's Art Basel.
---
---