Terrorizing a Family of Human Rights Champions
Truthdig, September 11, 2014 | Thursday, Sep 11, 2014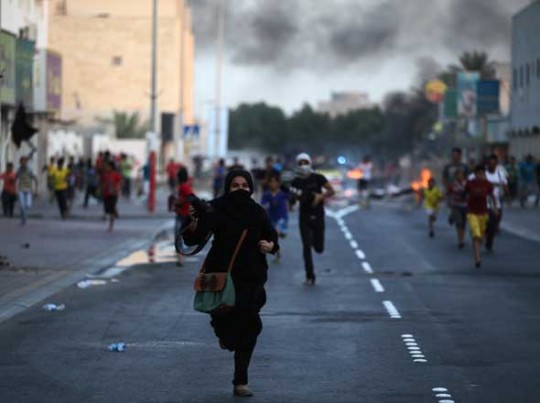 ---
Bahraini anti-government protesters run as police fire tear gas to disperse a pro-democracy march after demonstrators began burning debris in the streets of the western town of Malkiya, Bahrain. More than three years after Bahrain's latest uprising began, protests, marches and clashes with police remain almost nightly events in opposition towns throughout the Gulf island kingdom. AP/Hasan Jamali
The last time I wrote (http://lawrenceweschler.com/library/article/a-worthy-necessary-nobel-honoring-the-arab-spring) at length about the remarkable al-Khawaja family of democratic nonviolent human rights activists from Bahrain it was because its members were being nominated as a family for the 2013 Nobel Peace Prize. And excellent winners they would have been, signal torchbearers for the best and most idealistic aspirations evident in the Arab Spring; however, the Norwegian stewards of the prize, who've been proving a little squirrelly and unfocused of late (with that premature award for Barack Obama during his first presidential year and their choice of "the European Union" in 2012), instead went for the Organization for the Prohibition of Chemical Weapons last year—ah well.
Alas, the family's fate has taken a dramatic turn for the worse in recent days and is becoming the subject of worldwide concern and alarm.
The father, Abdulhadi, and his wife, Khadija al-Mousawi, are both longtime Bahraini activists, going back to their college days in the late '70s, and for their troubles were exiled from the island nation, a longtime repressive monarchy closely allied with the United States, which headquarters its Persian Gulf Fifth Fleet there. They went on to raise their family abroad, first in Syria and then in Denmark, where Abdulhadi founded the highly respected Bahrain Human Rights Organization, and two of their daughters in particular, Zainab (born 1983) and Maryam (born 1987), began growing into powerful presences in their own right (all the family members are now dual Danish-Bahraini citizens). In 2001, when a new emir back in their homeland seemed to usher in something of a democratizing thaw with a general amnesty, the entire family returned to Bahrain and Abdulhadi founded the equally well regarded Bahrain Center for Human Rights and began serving as the Middle East and North Africa protection coordinator for Front Line Defenders (the International Foundation for the Protection of Human Rights Defenders). Ironically so, since quite soon the hard-liners in the Bahraini regime reasserted their authority, the thaw ended and Abdulhadi himself was regularly being arrested, beaten and imprisoned.
Read the complete article on Truthdig...
---
---